The profile of the Laboratory of Advanced Material Technologies covers a wide range of possibilities for the implementation of research and development works, based on advanced devices and measuring apparatus. The main research issues concern unconventional processes of joining metallic elements with the participation of plastic deformation, i.e. friction stir welding (FSW): linear and point welding in various geometric and material arrangements, production of clinch joints and clinch-adhesive (hybrid) sheets, classic and special riveting classic and special screw connections. In addition, the design and production of tools for plastic forming processes and devices (e.g. extrusion dies, forging, FSW tools, holders, etc.) requiring very precise machining of tool elements, devices and test specimens, and enabling the shaping of various materials, including those difficult to machine. The laboratory equipment enables the measurement and control of process parameters as well as the study of the structure, microstructure and properties of engineering materials.
LABORATORY EQUIPMENT
CNC Makino PS95 Vertical Milling Machine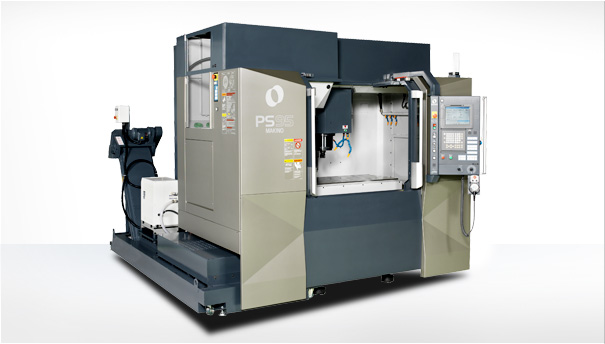 The Makino PS95 CNC milling machine is a 3-axis machine tool with a Makino ProP (Fanuc) control. In the laboratory, it is used for the processing of instrument elements, the preparation of test samples and the implementation of FSW and milling tests.
Dynamometer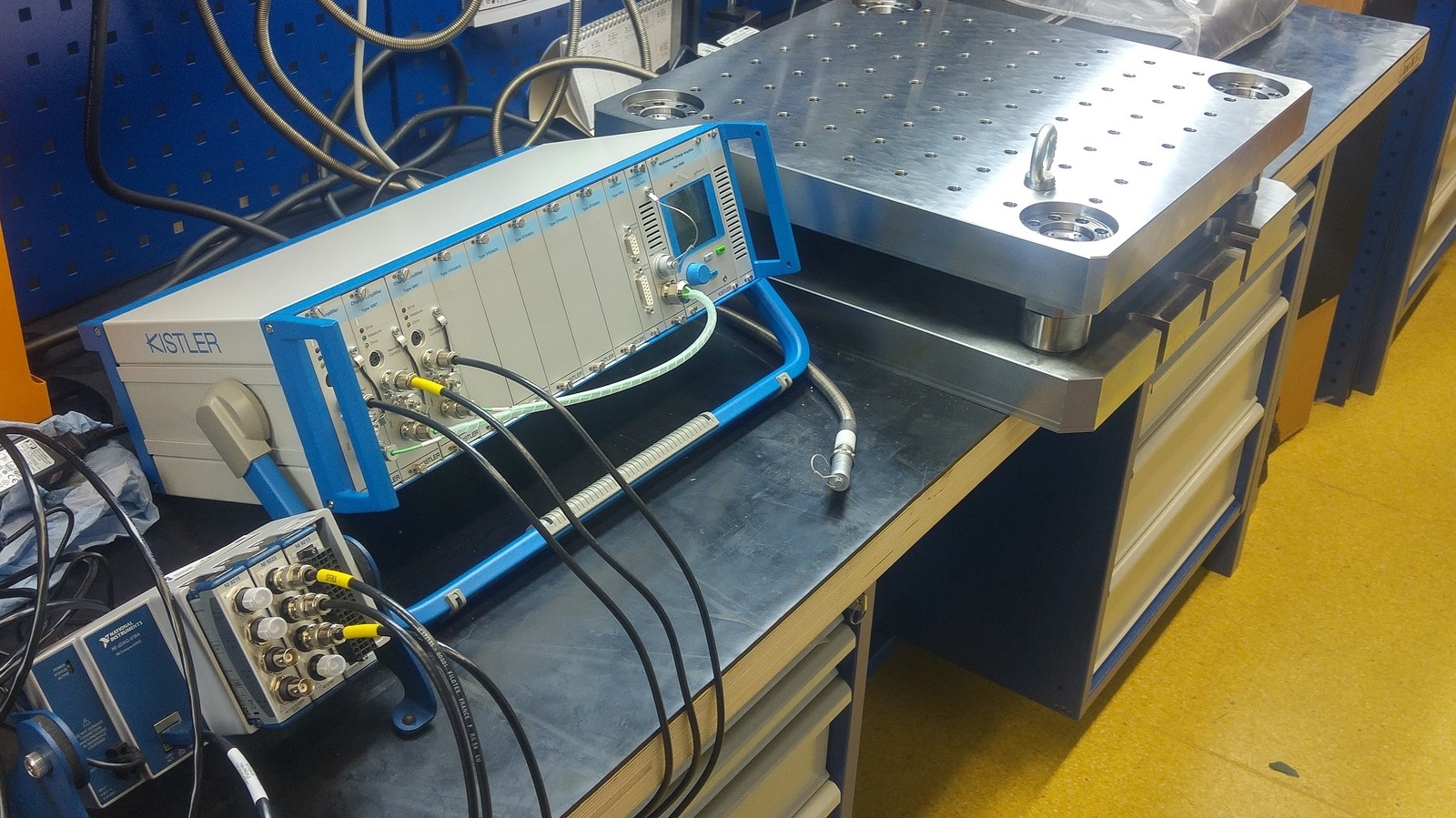 The 3-axis dynamometer consists of the dynamometer mounting plates and four Kistler transducers (2x 9367C and 2x 9368C) with a signal adder. The signal is sent from the adder to the Kistler charge amplifier in the form of 3 channels (X, Y, Z directions) and then to the National Instruments DAQ chip cooperating with the NI SignalExpress software on the computer. The system is adapted for mounting on a Makino PS95 machine and allows you to measure the forces occurring in the processes carried out on the machine. It is used to measure cutting forces (milling, drilling) and forces occurring during FSW tests.
CNC Makino IQ300 Milling Machine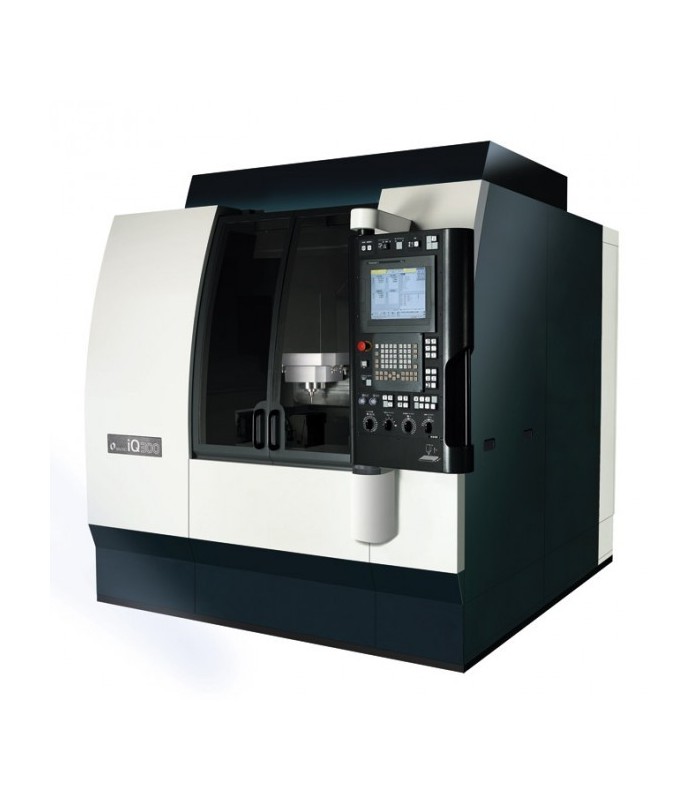 The Makino IQ300 numerically controlled milling machine is a 4-axis machine tool with a Makino Pro5 (Fanuc) control. It is a machine tool designed for very precise machining of elements for the tool industry (e.g. injection mold inserts) and processing of hard materials (hardened steel, sintered carbide).
Makino UPV-5 Wire Cutting EDM Machine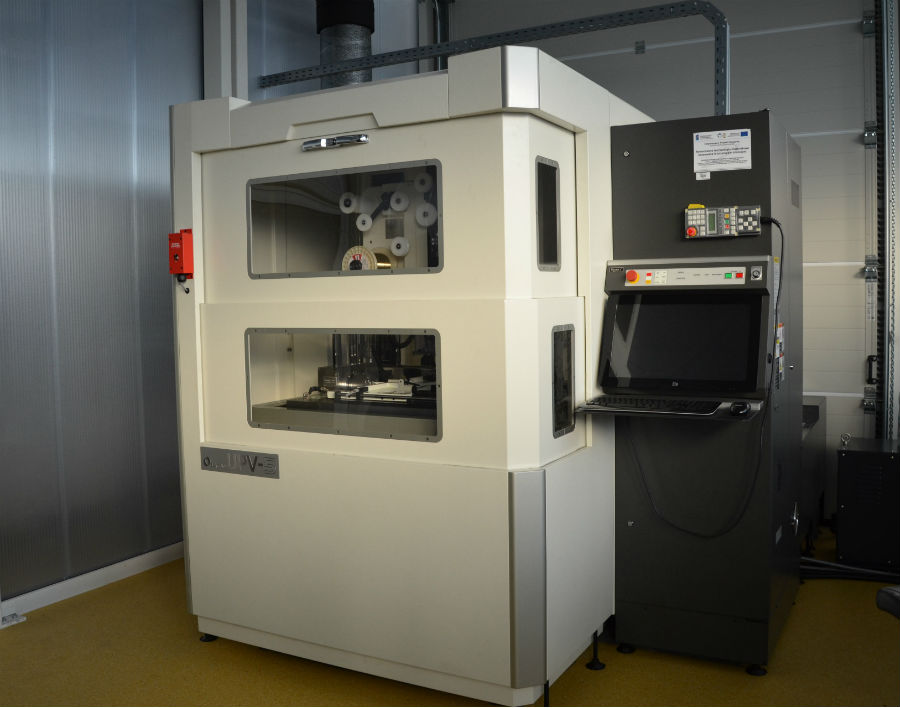 Makino UPV-5 wire cutting EDM machine is a 5-axis numerically controlled machine tool. It enables very precise machining, in particular of hard materials (hardened steel, sintered carbide) and super-hard (PCD) materials intended for the tool industry.
CNC Mas Masturn lathe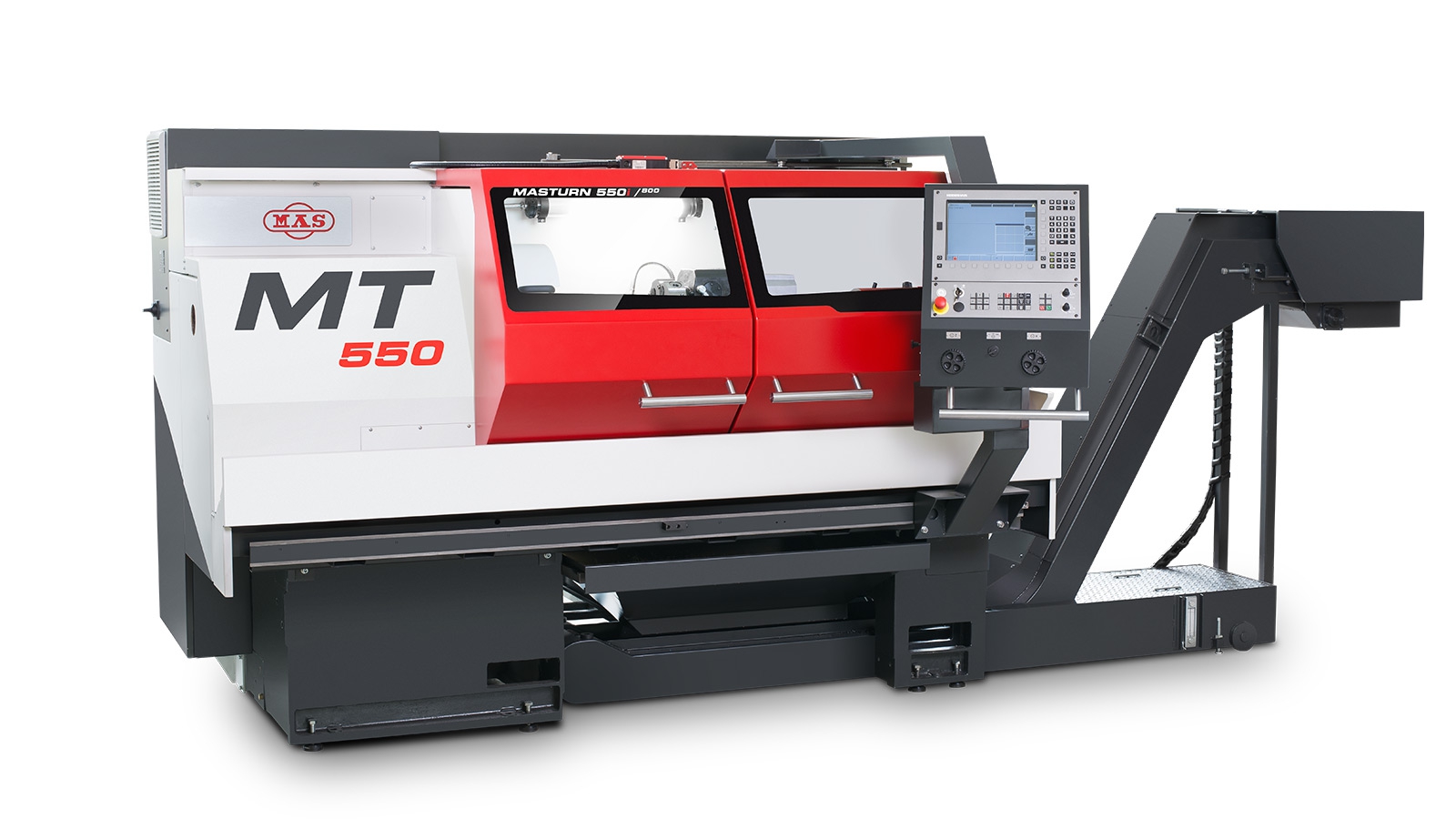 A numerically controlled lathe used for making parts of instruments and preparing test samples.
Focus-variation microscope Alicona G4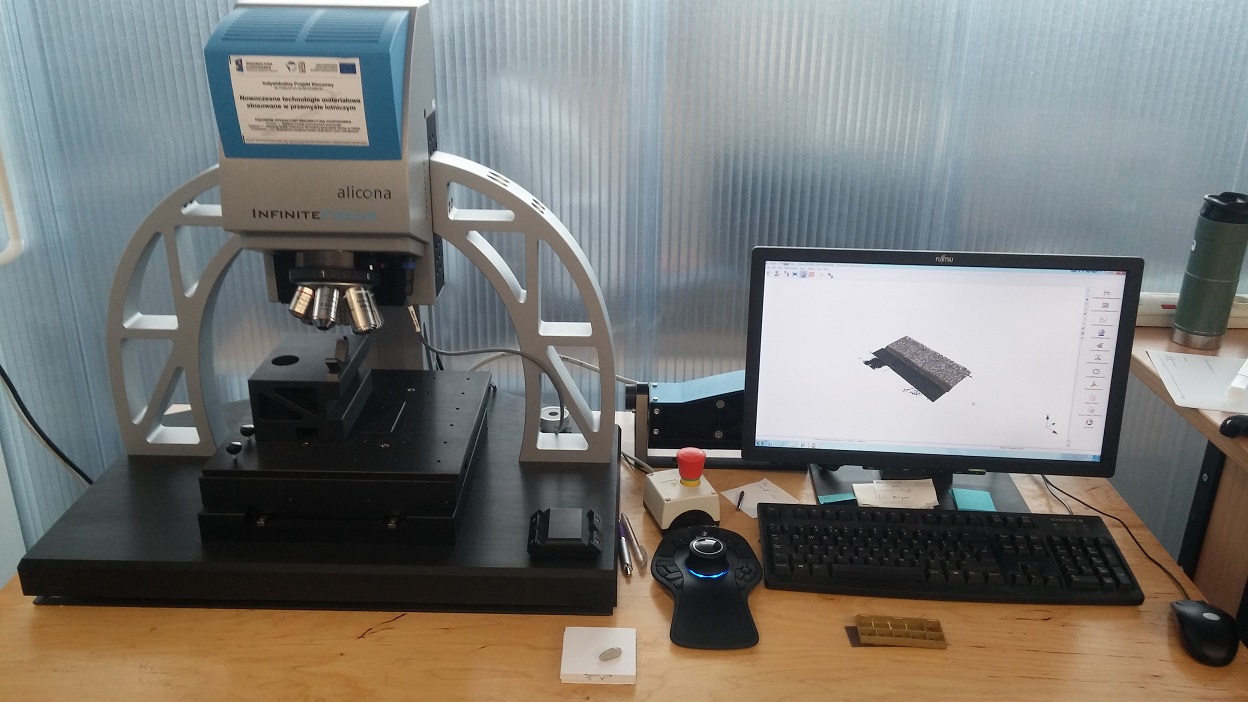 A microscope using the focus-variation technique allows to make 3D surface models and then their processing and measurements of geometric quantities, measurements of the geometric structure of the surface (roughness measurements Ra, Sa, etc.), differential measurements (e.g. wear tests), measurements of cutting tool blades geometry.
Mahr MarSurf M400 Surface Roughness Tester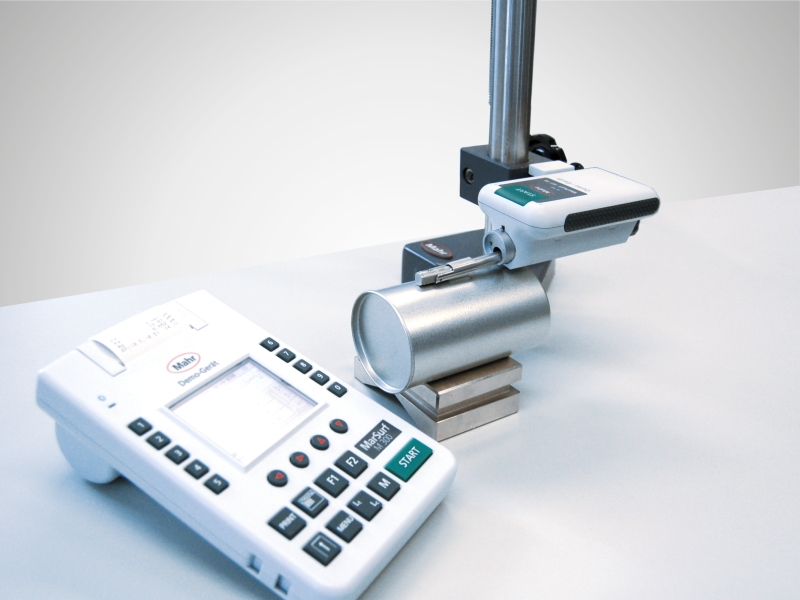 A mobile wireless surface roughness tester.
Leica DMi8c Inverted Microscope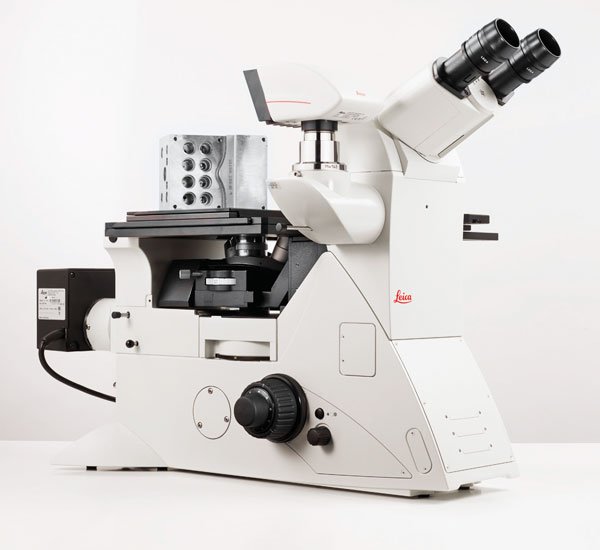 The inverted metallographic microscope allows observation in bright and dark field as well as in polarized light. It has a range of optical magnifications in the range of 50x-500x and a digital camera compatible with Leica LasX software for the acquisition, editing and validation of microscope images. The software is additionally equipped with a module for measuring grain size by planimetric and secant methods.
Vickers'a Innovatest Falcon 400 Micro Hardness Tester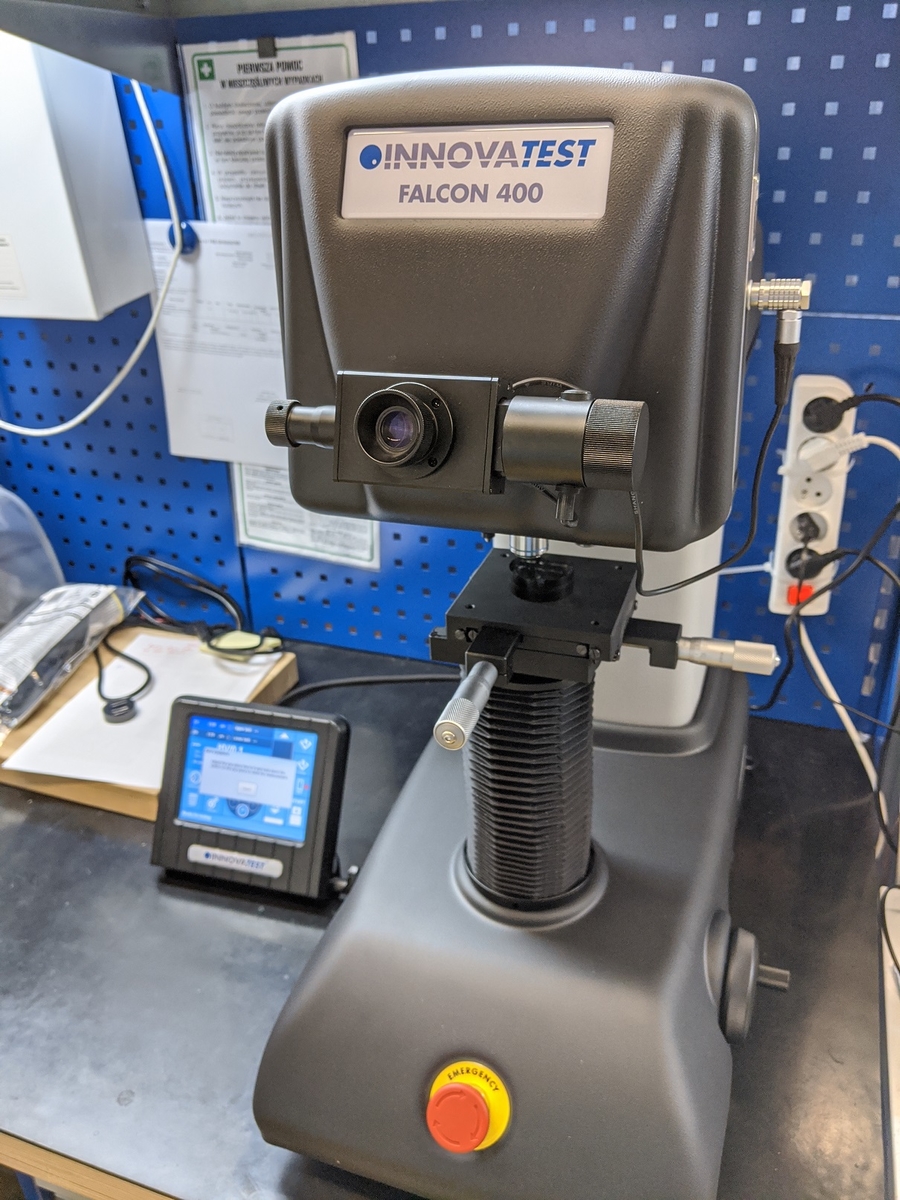 A micro hardness tester for measuring Vickers hardness in the range HV0.01 ÷ HV1 in accordance with the ISO 6507 standard.
A set of devices for the preparation of metallographic specimens
The station for the preparation of metallographic samples consists of a Struers Labotom saw, a Struers Citopress hot mounting press and a Struers Tegramin grinding and polishing machine.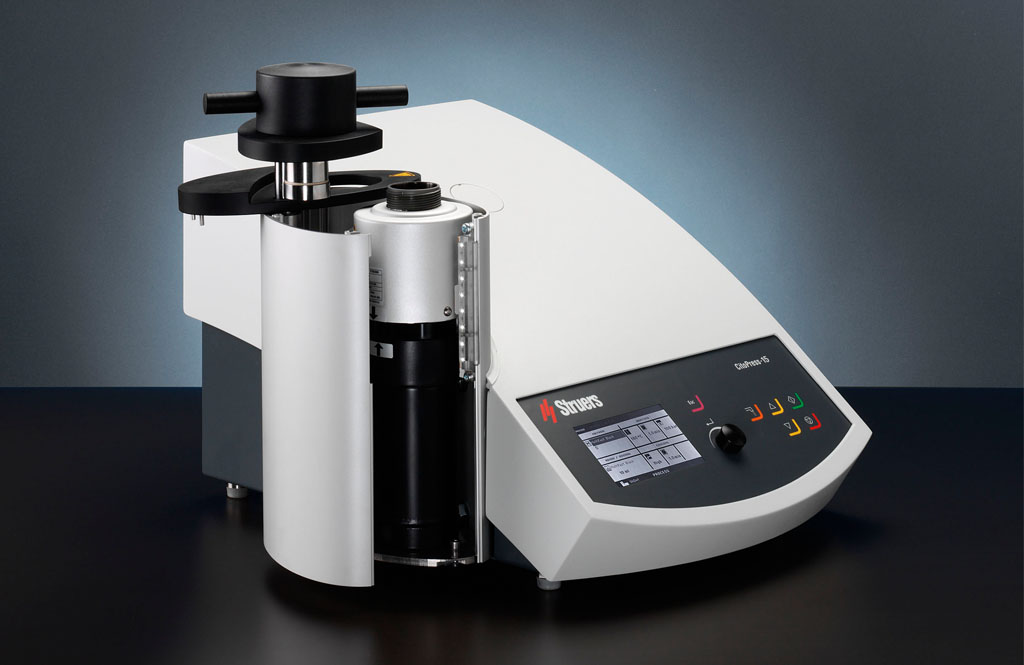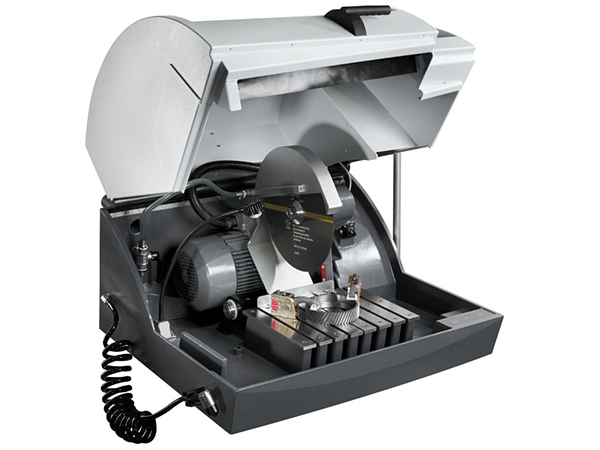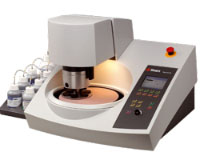 ATM Kristall 680 Electrolytic Polisher
A device for electrolytic polishing and etching of metallographic samples from metallic materials.
Other laboratory equipment
In addition to the above-mentioned devices, the laboratory is equipped with measuring instruments, including:
Mitutoyo and Mahr digital calipers, electronic micrometers, inside micrometers, electronic altimeter, Mitutoyo electronic protractor, precision level, gauge block sets, analog and electronic dial gauges;
roughness patterns;
hardness standards HV0.3, HV0.5 and HRC;
shape patterns (to calibrate Alicon's microscope);
ultrasonic polisher Nakanishi Sheenus NEO;
Software
The following software is used to carry out work in the laboratory:
Siemens NX (edu and commercial licenses);
Esprit Cam (for the preparation of WEDM machining programs, edu and commercial licenses);
Design Expert - DOE software;
NI LabView.